The EV Transition Explained - Engineering a new cyber-physical system at scale within the decade poses daunting challenges
13. 11. 2022
15:25
https://spectrum.ieee.org/
,
Robert N. Charette
From the outside, there is little to tell a basic Ford XL ICE F-150 from the electric Ford PRO F-150 Lightning. Exterior changes could pass for a typical model-year refresh. While there are LED head and rear light improvements along with a more streamlined profile, the Lightning's cargo box is identical to an ICE F-150, complete with tailgate access steps and a jobsite ruler. The Lightning's interior also has a familiar feel. But when you pop the Lightning's hood, you find the internal combustion engine has gone missing. In its place is a front trunk ("frunk"), while concealed beneath is the new skateboard frame with its dual electric motors (one for each axle) and a big 98 kWh standard (and 131 kWh extended range)battery pack. The combination permits the Lightning to travel 230 miles (370 km) without recharging and go from 0 to 60 mph in 4.5 seconds, making it the fastest F-150 available despite its much heavier weight.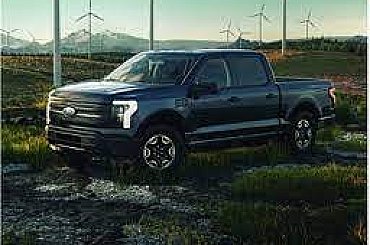 You are not logged in
If you want to read more, join the ENERGY-HUB club
Login
Try the monthly membership in the ENERGY-HUB club for free!
02. 02. 2023
17:30
Energy Storage
,
Cameron Murray
Utility Alliant Energy will deploy a 99MW/396MWh battery energy storage system (BESS) at a coal plant which it will retire in 2025…
02. 02. 2023
14:30
https://www.energy-storage.news/
,
Cameron Murray
GE Hydro Solutions has installed the final two 300MW turbines at a pumped hydro energy storage plant in Anhui Province, China. Al…
02. 02. 2023
14:30
https://www.energy-storage.news/
,
Andy Colthorpe
The European Union's Green Deal Industrial Plan has been welcomed by the European Association for Storage of Energy (EASE), althou…
31. 01. 2023
14:30
https://www.energy-storage.news/
,
Andy Colthorpe
California's proposed net metering programme has proved controversial, but residential battery storage providers Neovolta and sonn…
31. 01. 2023
11:30
https://www.energy-storage.news
,
George Heynes
Fotowatio Renewable Ventures closes financing on 133MW/266MWh BESS portfolio Renewable development company Fotowatio Renewable Ve…
ENERGY-HUB is a modern independent platformsharing news and analytic articles from the energy sector on a daily basis. Within our portfolio we monitor czech, slovak and foreign press releases.
75827
Number of published news
2092
Number of published events
881
Number of published articles